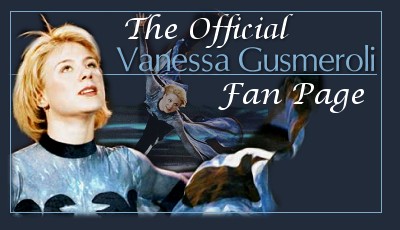 ---
---
Vanessa Gusmeroli won a bronze medal at the 1997 Worlds Figure skating Champioships with her interest inovative programs. In the 1998 Olympics, she placed 6th with a great effort in the free skate. Vanessa finished 5th at The 1999 World Championships. Figure Skating is not her only talent though, she is also a French Water Skiing champion. This page is dedicated to Vanessa Gumeroli and all the interesting skating she is contributing to the sport.
News
Vanessa is not competing at Trophee Lalique-in order to rest her ankle injury. Vanessa will be skating to "Legends of the fall" this season ! If anyone has any news they would like to share of Vanessa pleaseEmail me That's all of the latest news I have !

Check out these Pictures of Vanessa !
Sign the Guestbook
Write your supportive comments here !
See her competitive record !
Pictures by JB Mittan
created by Clay 1998